Mach
programvara
Vi är återförsäljare av Mach serien som är det bästa cnc programvaran på marknaden! Är du ny i området så kommer en kort sammanfattning.
För att köra en CNC Maskin så behöver du skriva uppgifter till maskinen i form av G-kod. Prosessen kan se ut så här:
Rita upp tex en konsoll i valfritt cad program (det finns bra gratis program så som A9Tech
Importera konsollen till Lazycam (ingår i mach programet) Där anger du hur konsollen ska skäras och med vilken frässtorlek etc.
Importera sedan lazycam filen till mach och kör igång.
Artsoft har varit i CNC branschen sedan 2001. Under denna tid har Mach-serien utvecklats till den bäst tillgängliga PC-baserade CNC mjukvara på marknaden. Mach är banbrytande med deras funktioner och fortsatta utveckling. Det finns över 10000 nöjda användare av Mach. Detta är det ända program som du bör köpa. Det finns gratis program likt detta men det är inget vi rekomenderar. Övriga program finns gratis så länge du ska skära ut enklare 2D eller 3D produkter.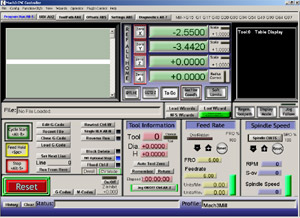 Egenskaper:
Konverterar en standard PC till en fullt utrustad, 6-axlig CNC-styrning
Tillåter direkt import av DXF, BMP, JPG, och HPGL filer genom LazyCam
Visual Gcode display
Genererar G-kod via LazyCam eller Wizards
Generera egna M-koder och Macron genom VBscript
Spindlehastighetsstyrning
Möjlighet att använda Touch screen
Fullskärmsmöjligheter
Med Mach3 kan du styra:
Svarvar
Fräsar
Laserskärmaskiner
Plasmaskärare
Gravyrmaskiner
Mach3 Minimum systemkrav:
32-bit version av Windows 2000, Windows XP, Windows Vista, eller Windows 7.
1Ghz Processor
512MB RAM
Ej integrerat grafikkort med 32MB RAM
Grundläggande datakunskap
Stationär PC (Observera att Bärbara datorer fungerar inte, PCMCIA och USB parallellportsadaptrar fungerar inte )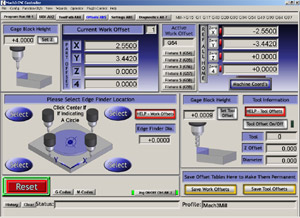 Mer från deras hemsida nedan:
Wizards
Wizards are "mini-programs" that extend the capabilities of Mach3. Wizards can be written by anybody and are designed to allow users to quickly perform routine or convenient operations without the need to have a pre-written GCode file. Included with Mach3 are free Wizards for such things as: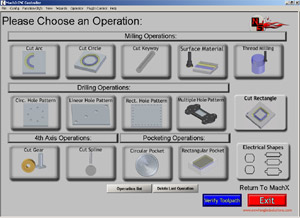 Gear cutting
Digitizing
Holes
Slots and keyways
Text engraving
Many standard shapes
Surfacing
MANY MORE
Also available, for a fee, are the Mach3 Addons for Mill – a handy collection of wizards designed to minimize the time it takes to go from "start to part".
LazyCam (BETA)
LazyCam is a beta-release free importer included with Mach3. It's purpose is to import standard dxf, cmx, and other file types to allow those that do not use CAM programs to more easily generate Gcode to be run under Mach3. The free edition of LazyCam that is included with Mach3 carries no cost. However, there is an optional PRO level upgrade that turns on advanced features such as object offsetting, pocketing, primary foam functions, importation of DXF profiles for conversion to Lathe turning code, etc. It is optional, but gives one the ability to do more advanced importation of objects.
Licensing and Updating
In the past 4 years, Artsoft has freely updated all previous versions of Mach for its customers. This policy still remains today. Any current version of Mach will be free to update for the duration of its development.
A license is only required on the computer(s) actually running the machine(s). If a computer not connected to a machine is used to test code, please use Mach3 in Simulation mode – it will remove the 500 line limit. Simulation mode can be accessed by uninstalling (or not installing) the Parallel Port Driver.
Software Requirements
Keeping with our home hobbyist roots, the minimum software requirements to run Mach are very reasonable. Below are the specifications for running Mach3 stably.
Mach3 Minimum Requirements:
32-bit version of Windows 2000, Windows XP, Windows Vista, or Windows 7 Operating System
1Ghz CPU
512MB RAM
Non-integrated Video Card with 32MB RAM
Basic Computer Skills (ability to copy/rename files, browse directories, etc)
Desktop PC (if using the Mach3 Parallel Port Driver – laptops are not supported because the power saving features of the chipsets disrupt the pulse stream, PCMCIA and USB parallel adaptors will *not* work.)